Playdex x World of Defish Leaderboard
Attention all gamers! Get ready for the ultimate battle in the gaming world as we present to you the World of Defish and Playdex game tournament! With a whopping prize pool of 750 USDT this tournament is the perfect opportunity for gamers to showcase their skills and earn some serious cash. We have created 4 tiers for gamers of different levels, so whether you're a beginner or an expert, there is a place for you in this tournament. It's time to level up your gaming skills and prove yourself to the world.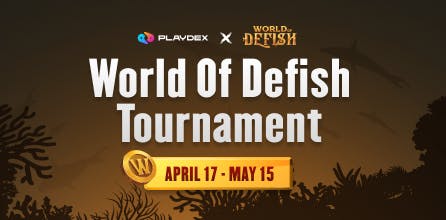 About World of Defish
World of Defish is a decentralized NFT gaming universe built on the Binance Smart Chain. In this game, players are immersed in a delightful underwater universe where they journey to hunt for collectible NFT fish. With endless factions, players can upgrade their equipment, improve their skills, buy territories, compete with other players, and trade on the marketplace. This article will provide a detailed review of the game and what it offers.
How to Play
Sign up for an account on game.worldofdefish.com.
Register for the tournament on Playdex by clicking on the provided link.
The connected Metamask wallet address for World of Defish and Playdex must be one and the same. No multi-accounting.
Based on your in-game items and level, you will be automatically assigned to one of four tiers: tier 4 for beginners, tier 3 for experienced players, tier 2 for advanced players, and tier 1 for great captains.
Start playing and fishing in the game. Every completed result will contribute to your score on the leaderboard.
Check your leaderboard stats on the Playdex tournament page to see where you rank against other players in your tier.
Keep playing and climbing up the leaderboard to increase your chances of winning the tournament.
IMPORTANT: Mechanics for New Users (First 200 new users get FREE gas fees ℅ WoD)
All items above, plus the following:
a. Player must NOT have an existing World of Defish account
b. Player must connect same wallet address from Playdex account to World of Defish upon registering
IMPORTANT: You'll start accumulating scores based on all your fishing sessions launched after the tournament starts. Now let's discuss NFT requirements.
Let's say for a Tier 3 tournament, you can use NFTs ranging from Common to Epic rarity. This means that if you have a Legendary NFT or higher, you cannot use it in your fishing sessions, as you will not receive a score for that entire session (this applies to all equipment and fish).
You'll need to decide which equipment to use in each session based on your personal goals and tournament rules.
And finally, your score will update each time you finish a session, so be sure you finished them before the tournament ends.
Tournament Schedule
This tournament will take place on April 17, 7 PM PHT, and will continue for 4 weeks, ending on May 15, 7 PM PHT. Registration for this tournament will be open on April 17, 7 PM PHT, but no worries, you will be able to join while the tournament is still running.
Prizes
Tier 4: For Beginners
Prize pool - $75
1st Place - $25, x1 Medium box from new collection
2nd-3rd Place - $12 each, x1 Epic main equipment item
4th-7th Place - $6 each

Tier 3: For Experienced Players
Prize pool - $150
1st Place - $50, x1 Medium box from new collection, Legendary boat 
2nd-3rd Place - $25 each, x1 Legendary & Epic main equipment item, 
4th-7th Place - $12 each
Tier 2: For Advanced Players
Level: 75 - 113
NFT: C - A
Prize pool - $225
1st Place - $75, x2 Best box from new collection 
2nd-3rd Place - $37 each, x1 Medium box from new collection
4th-7th Place - $18 each
Tier 1: For Great Captains
Level: 114 - 140
NFT: C - A
Prize pool - $300
1st Place - $100, x3 Best box from new collection 
2nd-3rd Place - $50 each, x2 Medium box from new collection
4th-7th Place - $25 each, x1 Epic boat
Rewards Claiming
All prizes will be available for claiming on Playdex within a week after the tournament ends.
Help, Feedback, and Support
For any issues, inquiries, or feedback, please let us know through our web chat or helpdesk. Follow our socials for winner announcements and other live updates. Good luck, and may the best player win!
About Playdex
Playdex is a social gaming platform where players can come together and play web2 to web3 games with easy access. DISCOVER your game, RENT your NFTs, JOIN Leaderboards & Tournaments, plus more! Sign up now and join our growing gaming community with 20,000+ gamers! RENT. PLAY. REPEAT.