Playdex x Kanimal Clash Season 4 Leaderboard
Playdex has partnered with Kanimal Clash, a real-time strategy game with NFT characters, to launch its Season 4 leaderboard. This partnership aims to make the play-to-earn experience fun and exciting for players.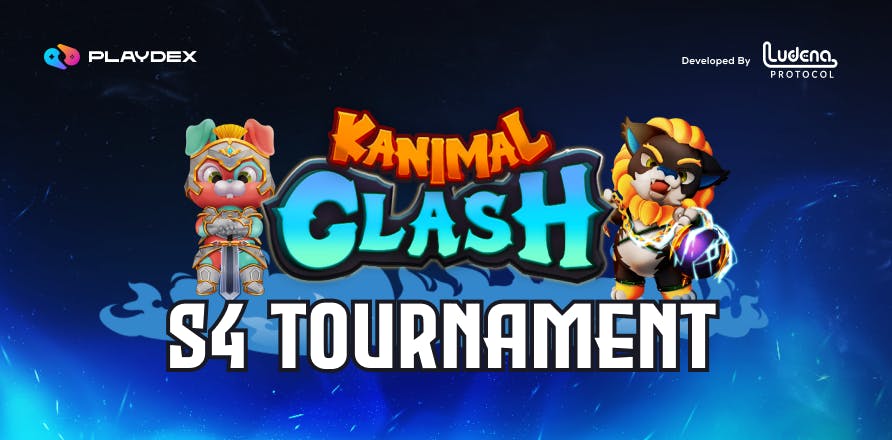 About Kanimal Clash
Kanimal Clash is Ludena Protocol's first game that features NFT characters and diverse gameplay mechanics. It was developed by famous game developers from Korea Netmarble and Neowiz, Gala games. The game is a real-time strategy game with a deep storyline, various token usage, and different game modes such as PvP, PvE, and Ranking. Kanimal Clash is a clash-royale style game that allows players to collect, trade, and battle with Kanimals, cute and unique animals that possess different powers.
Rules of the Season 4 Leaderboard
The Season 4 leaderboard is a four-week tournament that starts on February 24, 2023, at 8 AM PHT and ends on March 25, 2023, at 8 AM PHT. To participate in the leaderboard, players need to register on the Playdex platform and start playing.
The top 30 players will win rewards in the form of in-game tokens. The rewards will be based on the player's rank on the Kanimal Clash leaderboard.
The LDN prize pool distribution is as follows:
Top 1 - 20,000 LDN
Top 2 - 10,000 LDN
Top 3 - 7,000 LDN
Top 4 - 1,000 LDN
Top 5 - 1,000 LDN
Top 6-10 - 1,000 LDN
Top 11-15 - 500 LDN
Top 16-30 - 500 LDN
The Playdex reward distribution is as follows:
Top 1 - 100 USDT
Top 2-5 - 50 USDT
Top 6-10 - 25 USDT
Top 11-15 - 15 USDT
Additionally, all players with 5 wins will receive 10 YAC.
Mechanics of the Leaderboard
Create an account in Ludena Protocol Marketplace (LDN and YAC prizes will be distributed using your Ludena Wallet)
IMPORTANT: Change your username to 'Playdex [Name]' for Kanimal Clash to know that you're from our community!
Use your account to climb their Season 4 Leaderboards
PC or Android and download instructions can be found here
The Playdex x Kanimal Clash Season 4 leaderboard is an exciting opportunity for players to compete, earn rewards, and have fun. With its unique NFT characters, diverse gameplay mechanics, and attractive rewards, Kanimal Clash is a game that players should not miss!