Playdex x Chaingunnies Leaderboard
Hey Frag Masters! Prepare for an adrenaline-fueled showdown like no other with ChainGunnies, the ultimate gamified Zombunny survival NFT game. In this exciting game players can engage in heart-pounding battles against hordes of ravenous Zombunnies and compete for the Top of the Hops and prove themselves as the best badass bunny out there.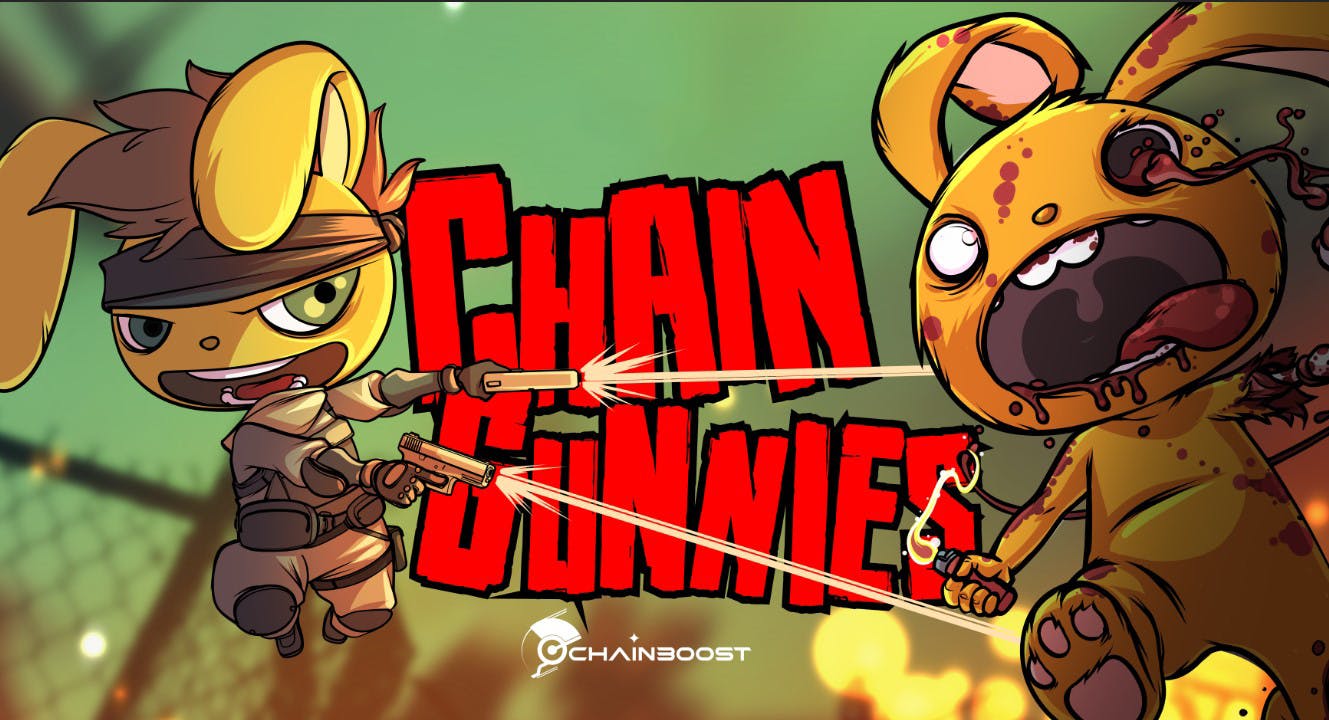 About Chaingunnies
ChainGunnies is a captivating NFT game that immerses players in an intense battle against hordes of voracious Zombunnies. As a player, you will face endless waves of these ravenous creatures, and your mission is to survive and climb the ranks. Whether you choose to go solo or team up with others in multiplayer mode, you'll need to clash with the Zombunnies up close and personal as they relentlessly hunt you down. With its unique gameplay mechanics and engaging visuals, ChainGunnies promises an adrenaline-pumping experience like no other.
How to Win
Register to the tournament
Connect your wallet to the game via the Chaingunnies website
While connecting your wallet to Chaingunnies website, you will be asked to add chainverse to your wallet in metamask.

Please enter the following value:
Network Name: Chainverse Mainnet
New PRC URL: https://rpc.chainverse.info
Chain ID: 5555
Currency Symbol: OAS
Block Explorer URL: https://explorer.chainverse.info

After this, you may go back to registering your account.

The connected Metamask wallet address for Chaingunnies and Playdex must be one and the same. No multi-accounting.
Start playing and survive the waves of Zombunnies.
Keep playing and climbing up the leaderboard to increase your chances of winning the tournament. The more Zombunnies you kill, the more coins you can collect to accumulate your points.
IMPORTANT: Please make sure that you play and earn points to see your name, points, and ranking in our leaderboard.
Check your leaderboard stats on the Playdex tournament page to see where you rank against other players.
Invite your friends to participate in the tournament, the prize pool will increase proportionally to the number of players involved. ✨✨✨


Tournament Schedule
This tournament will start on May 24, 2023, 8 PM PHT, and will continue for 2 weeks, ending on June 06, 2023, 8 PM PHT. Registration for this tournament will be open on May 24, 10 AM PHT, but you can still join and register while the tournament is running.

Prizes and Rewards
Our milestone-based prize pool is designed to reward players based on the number of participants in the event. As the player count increases, the prize pool also grows, creating an exciting incentive for players to invite their friends and encourage more participation. The prize pool will be divided into predetermined milestones, with each milestone triggering an increase in the overall prize pool. This format ensures that as the player count rises, so does the potential reward for everyone involved, fostering a competitive and engaging environment.
The maximum prize pool is 750$ USDT



Steel
TOP 1 - $20.00
TOP 2 - $12.00
TOP 3 - $8.
Top 4-16 - $2.55
Top 17- 45 - $0.91
Bronze
TOP 1 - $28.13
TOP 2 - $16.88
TOP 3 - $11.25
Top 4-16 - $5.34
Top 17- 47 - $1.97
Silver
TOP 1 - $56.25
TOP 2 - $33.75
TOP 3 - $22.50
Top 4-22 - $6.51
Top 23- 75 - $2.60
Gold
TOP 1 - $84.38
TOP 2 - $50.63
TOP 3 - $33.75
Top 4- 26 - $7.75
Top 27 - 94 - $3.09
Diamond
TOP 1 - $112.50
TOP 2 - $67.50
TOP 3 - $45.00
Top 4-31 - $9.00
Top 32 - 107 - $3.59

Rewards Claiming
All prizes will be available for claiming on Playdex within a week after the tournament ends.
This tournament offers an incredible opportunity for players to showcase their skills, compete with others, and claim the title of the ultimate badass bunny. Get ready to face the relentless Zombunnies, earn points, and climb your way to the Top of the Hops! Join the tournament, prove your worth, and be rewarded with exciting prizes. Stay tuned for more updates and get ready for an unforgettable gaming experience brought to you by Playdex and ChainGunnies.

User Guides

Help, Feedback, and Support
For any issues, inquiries, or feedback, please let us know through our web chat or helpdesk. Follow our socials for winner announcements and other live updates. Good luck, and may the best player win!

About Playdex
Playdex is a social gaming platform where players can come together and play web2 to web3 games with easy access. DISCOVER your game, RENT your NFTs, JOIN Leaderboards & Tournaments, plus more! Sign up now and join our growing gaming community with 20,000+ gamers! RENT. PLAY. REPEAT.
Facebook | Instagram | Telegram | Discord | Twitter | Youtube | TikTok