How to Throw a Playdex Party: FAQs for Party Hosts
Building a Community, One Party at a Time: We believe that gaming is more than just a pastime; it's a vibrant and supportive community. This affiliate program is designed to bring gamers together, fostering creativity, collaboration, and healthy competition.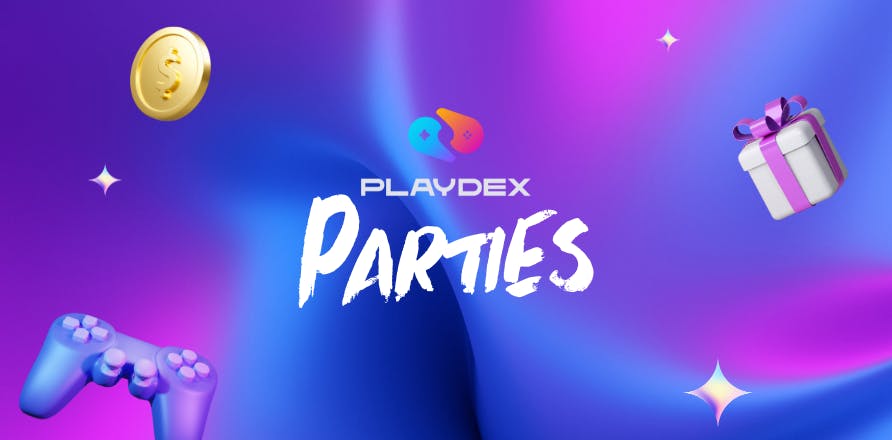 Here at Playdex, we don't just supercharge games; we also supercharge gaming communities. With that, we are proud to introduce Playdex Parties!

A first-of-its kind social gaming experience made for passionate gamers like you who deserve to play, party, and get uniquely rewarded.
Here's how you can sign-up and host your own Playdex Party:
Step 1: Create Your Playdex Account
Step 2: Sign-Up as a Party Host
Step 3: Wait for the Confirmation email within 12 hours
Step 4: Gather Your Friends and Create a Party
Step 5: Join Leaderboard Tournaments
Let's address some frequently asked questions to ensure you have a seamless and rewarding experience.

1. What is Playdex Parties?
Playdex Parties is a first-of-its kind gaming experience designed to bring excitement to gamers. It offers party tournaments and incentives for individuals who host their own gaming parties.
2. What do Playdex Party Hosts do?
As a Playdex party host, you get to organize and host gaming parties where you invite friends and fellow gamers to participate in tournaments at Playdex. You act as the leader of the party and encourage others to join and compete.
3. How many Partymates can I invite? Are there any player criteria (e.g., age, location, etc.) to consider?
You can invite as many party members as you want, there is no limit! There are no age restrictions, and you can even invite friends from different locations.
4. How can my invited Partymates use my Party Host code?
When there is a live tournament at Playdex, you and your friends can use your party host code. After clicking "register" for the tournament, a prompt will appear asking for a referral code. By entering your referral code, the tournament sign-up will be credited under your Playdex Party.
5. What rewards can I get for my referrals as a Party Host?
As a Party Host, you will receive rewards for your referrals. The specific rewards may vary for each tournament. To stay updated on the rewards, make sure to follow the Playdex Parties Telegram Community Chat.
6. What rewards can my Partymates get for joining my Playdex Party?
Your partymates have the opportunity to win a share of the tournament prize pool if they rank high on the tournament leaderboard.
7. What tournament/s can our Playdex Party play and join now? Will there be more to come?
Your Playdex Party can join any live Tournaments visible on the Playdex website. You can participate in multiple tournaments, increasing your chances of earning rewards. Additionally, there will be more tournaments in the future. Stay up-to-date with new tournament releases by joining our Telegram Community Chat and Discord.
8. How do we claim our winnings and prizes from Playdex Parties?
There are two ways to claim your winnings and prizes from Playdex Parties:

For tournament winnings, (if you rank among the top performers), you can claim them through the Playdex website. Simply click on the "Claim Rewards" button on the Tournament Page of the tournament you joined. Prizes will be automatically credited to your linked wallet on our website.
For Playdex Party Prizes, our team members will manually send them to the e-wallet you have declared.
Please note that the above information is subject to change, and it's always a good idea to refer to the official Playdex Parties communication channels for the most up-to-date details and guidelines.

Help, Feedback, and Support
For any issues, inquiries, or feedback, please let us know through our web chat or helpdesk. Follow our socials for winner announcements and other live updates.

About Playdex
Playdex is a social gaming platform where players can come together and play web2 to web3 games with easy access. DISCOVER your game, RENT your NFTs, JOIN Leaderboards & Tournaments, plus more! Sign up now and join our growing gaming community with 20,000+ gamers! RENT. PLAY. REPEAT.
Facebook | Instagram | Telegram | Discord | Twitter | Youtube | TikTok