KMON Tournament - Rent and Play
Welcome to the KMON Genesis Tournament, the ultimate turn-based RPG challenge! In this thrilling event, you will have the opportunity to showcase your strategic skills and compete against other trainers to prove yourself as the best.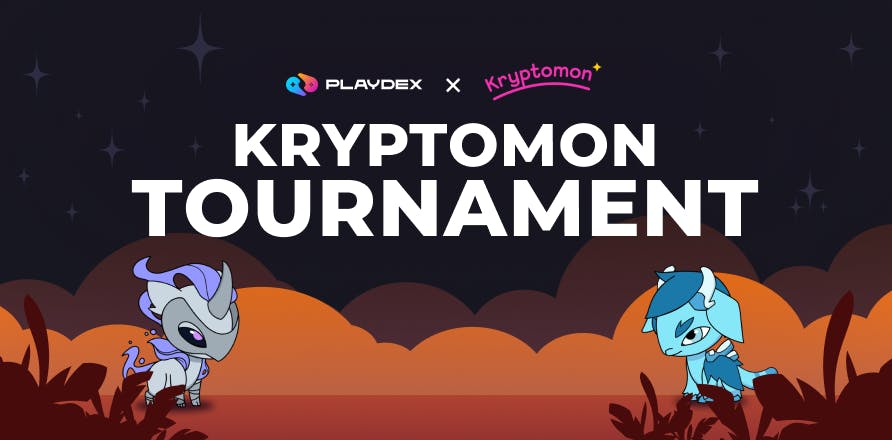 About KMON Genesis
The tournament follows a turn-based format, where you'll strategically choose your Kryptomon's actions, unleashing powerful attacks, utilizing special abilities, and employing tactical maneuvers to outsmart your opponents. Choose wisely, as every decision can make or break your chances of victory.
This tournament is not just about individual battles. It's an opportunity to connect with other trainers, exchange strategies, and learn from one another. Make new friends and form alliances, or challenge your rivals to exhilarating battles that will push your skills to the limit.
How to Win
The connected Metamask wallet address for KMON Genesis and Playdex must be one and the same. No multi-accounting.
Register for the tournament on Playdex by clicking on the provided link. You can use referral code from Playdex Party host on this step.
Sign up for an account on KMON Trainer Hub.
Rent at least one Kryptomon from Playdex NFT Rental Marketplace.
Start playing and engage in strategic battles, train and evolve your Kryptomons, embark on quests and missions, explore the vast universe, and enjoy social interactions in the KMON Genesis.
Check your leaderboard stats on the Playdex tournament page to see where you rank against other players. Please note that there may be a delay of up to 2 hours in the points displayed on the leaderboard due to technical limitations.
Keep playing and climbing up the leaderboard to increase your chances of winning the tournament.
Invite your friends to participate in the tournament, the prize pool will increase proportionally to the number of players involved. ✨✨✨
Important: Make sure you rented at least one NFT on Playdex Rental Marketplace to be listed on the leaderboard
Note: Adblockers (privacy browsers) can impact the correct tracking of your leaderboard score
Tournament Schedule
This tournament will take place on May 15, 8 PM PHT, and will continue for 1 month, ending on June 15, 8 PM PHT. Registration for this tournament will be open on May 12, 8 PM PHT, but no worries, you will be able to join while the tournament is still running.
Prizes and Rewards
Our milestone-based prize pool is designed to reward players based on the number of participants in the event. As the player count increases, the prize pool also grows, creating an exciting incentive for players to invite their friends and encourage more participation. The prize pool will be divided into predetermined milestones, with each milestone triggering an increase in the overall prize pool. This format ensures that as the player count rises, so does the potential reward for everyone involved, fostering a competitive and engaging environment.
The maximum prize pool is 2500$ USDT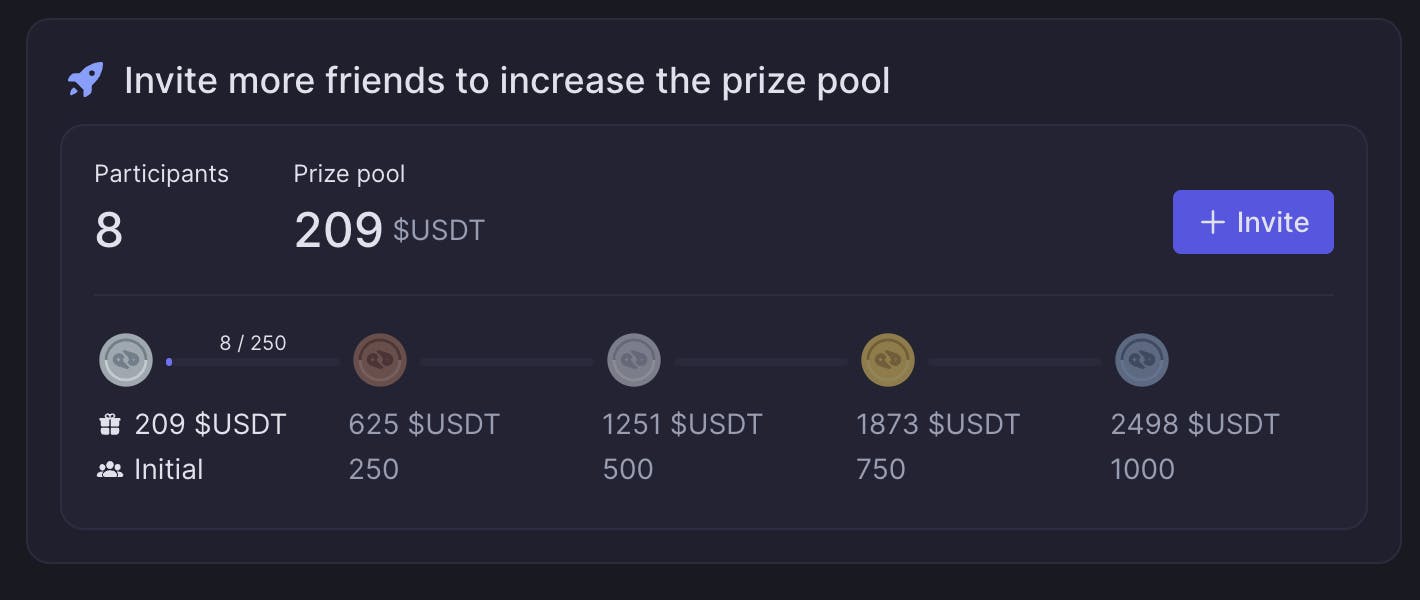 Steel
TOP 1 - $41.67
TOP 2 - $25.00
TOP 3 - $16.67
Top 4-31 - $2.21
Top 32-104 - $0.86
Bronze
TOP 1 - $93.75
TOP 2 - $56.25
TOP 3 - $37.50
Top 4-46 - $5.10
Top 47-156 - $1.98
Silver
TOP 1 - $187.50
TOP 2 - $112.50
TOP 3 - $75.00
Top 4-72 - $6.33
Top 73-250 - $2.46
Gold
TOP 1 - $281.25
TOP 2 - $168.75
TOP 3 - $112.50
Top 4-89 - $7.57
Top 90-323 - $2.94
Diamond
TOP 1 - $375.00
TOP 2 - $225.00
TOP 3 - $150.00
Top 4-102 - $8.82
Top 103-357 - $3.43
Rewards Claiming
All prizes will be available for claiming on Playdex within a week after the tournament ends.
User Guides
Help, Feedback, and Support
For any issues, inquiries, or feedback, please let us know through our web chat or helpdesk. Follow our socials for winner announcements and other live updates. Good luck, and may the best player win!
About Playdex
Playdex is a social gaming platform where players can come together and play web2 to web3 games with easy access. DISCOVER your game, RENT your NFTs, JOIN Leaderboards & Tournaments, plus more! Sign up now and join our growing gaming community with 20,000+ gamers! RENT. PLAY. REPEAT.
Facebook | Instagram | Telegram | Discord | Twitter | Youtube | TikTok